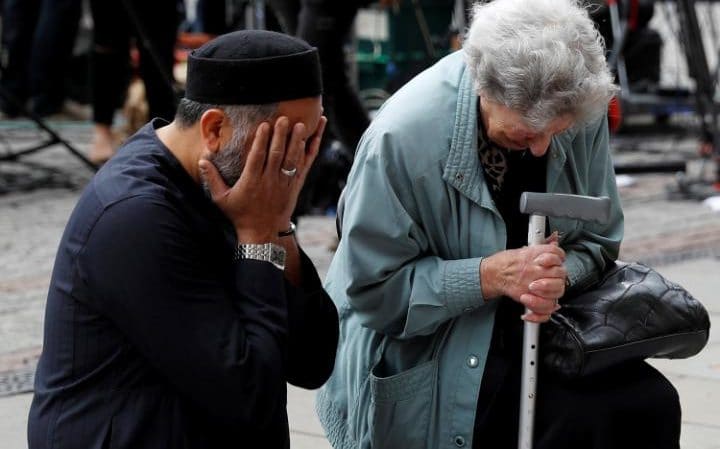 In solidarity and togetherness, members of the Interfaith Forum from Blackburn travelling together to Manchester and prayed for the victims of the Manchester attack. It touched many hearts when a Jewish woman, Renee Rachel Black, and a Muslim man, Sadiq Patel, visited the Albert Square in Manchester on Tuesday.
On Monday night, at least 22 people, including women and children, were killed and many other were injured in a suicide blast at the Manchester Arena after US singer Ariana Grande finished her performance. An eight-year-old girl and an off-duty female police officer were also among the dead.
As Black began to cry, Patel comforted her; "What can you say?" Black said when asked about her reaction to the terror attack, CNN TV network reported. It was a moving moment when Patel was comforting Black. Undoubtedly, it was a message of resilience to terrorists, when Black and Patel both walk back together from the vigil site. The news was covered by many national and international TV channels and newspapers.   
The news coverage of the story:
http://metro.co.uk/2017/05/24/imam-and-jewish-woman-show-solidarity-for-manchester-bombing-victims-6659942/
http://edition.cnn.com/2017/05/24/europe/manchester-attack-joint-prayer/
http://www.mirror.co.uk/news/uk-news/well-through-together-touching-moment-10491477
https://www.jfedbflo.com/jta/1379201
https://www.longroom.com/discussion/497992/
https://www.youtube.com/watch?v=m0YrdCAn6bY
http://expressdigest.com/muslim-imam-and-jewish-woman-pray-for-manchester-victims/
https://www.thesun.co.uk/news/3641368/manchester-bombing-terror-attack-tributes-imam-prays-jewish-woman/?CMP=Spklr-_-Editorial-_-TheSun-_-News-_-TwImageandlink-_-Statement-_-TWITTER
http://infos1.net/en/muslim-and-jewish-woman-pray-after-manchester-attack/
https://www.vox.com/world/2017/5/25/15693148/jewish-woman-muslim-man-pray-solidarity-manchester-terror-bomb-unity
http://www.arabnews.com/node/1105116/world
http://jewishweek.timesofisrael.com/watch-a-93-year-old-jewish-woman-and-a-muslim-man-mourn-together-in-manchester/
http://english.alarabiya.net/en/variety/2017/05/25/Muslim-man-comforts-elderly-Jewish-woman-at-Manchester-memorial.html
http://www.thedailystar.net/opinion/pleasure-all-mine/the-strategy-solidarity-1410760